It could be argued that New Zealand was made to explore by ship. A country of two islands surrounded by water, it's famous for mystical landscapes, from soaring snow-capped mountain peaks and ethereal fjords, to grape-laden wine country and the beautiful valleys as seen in the Lord of the Rings movies. In recent years there's been a sharp increase in the number of cruise lines crossing the Tasman from Australia to explore our neighbour, dubbed the Land of the Long White Cloud, and for good reason. What's on offer for cruise fans is an opportunity to enjoy many of New Zealand's natural gems such as the southern fiords, and experience its quaint coastal communities and fascinating Maori culture.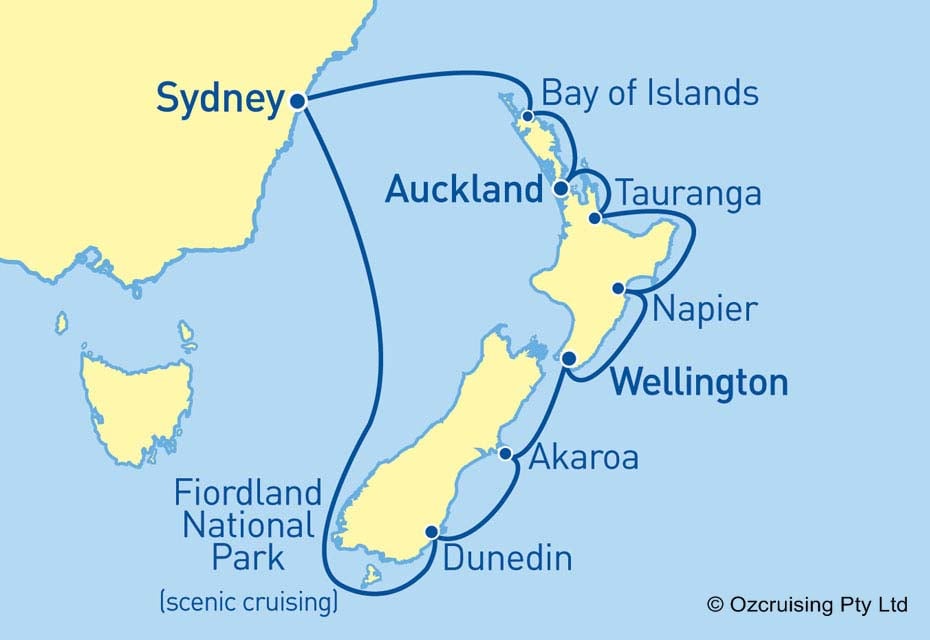 The North and South Islands are separated by the Cook Strait which is just 20 kilometres at its narrowest point. The North Island is home to large, cosmopolitan cities including Auckland and the nation's capital, Wellington, while the South Island is the star of the show when it comes to the great outdoors, boasting spectacular mountains, lakes, fiords and glaciers. From the Bay of Islands at the far north to Fiordland in the far southwest, cruising New Zealand opens up a world of natural wonders and reveals a vibrant culture. So which cruise lines cross the Tasman from Sydney each summer, and what are your options?
Princess Cruises
Princess has five ships cruising from Australia in the 2015-16 season including Golden Princess, which made her Down Under debut in October 2015. In 2016, options to cruise from Sydney include a popular 13-night round-trip itinerary on DawnPrincess, visiting a host of ports of call including the marquee destinations of the Bay of Islands, Auckland, Wellington and Dunedin. Meanwhile Diamond Princess, with her Japanese-inspired dining and spa, operates a similar range of itineraries to New Zealand including 12- and 13-night round-trip itineraries from Sydney through to March 2016, with Emerald Princess cruising from Sydney next summer between November and March, offering a calendar of round-trip and one-way cruises from Sydney of between 11 and 13 nights in duration. Golden Princess is based in Melbourne this summer, operating primarily a 13-night round-trip itinerary taking in Dunedin, Akaroa, Wellington, Gisborne, Tauranga and Auckland, while Sea Princess is based in Brisbane, and has sailings across the Tasman in October and November 2016 in addition to her popular winter world cruises, which also visit New Zealand. Sister ship Sun Princess will also call Brisbane home for a short season with two New Zealand round-trip cruises to choose from, departing in October 2016 and February 2017.
Need to know: Dawn Princess has various departures for its popular 13-night New Zealand itinerary from Sydney including January 3, April 7, November 26 and December 9, 2016.
Holland America
Holland America welcomes the 1924-guest MSNoordam to Australia this wave season to replace the popular MS Oosterdam. Based in Sydney for the summer, the ship will offer a range of enticing round-trip and one-way cruises, with some including extended voyages taking in ports of call in Fiji and the South Pacific, and itineraries ranging from 13 to 27 nights. A typical 14-night round-trip New Zealand cruise from Sydney explores the spectacular sounds of Fiordland, and ports of call including Dunedin, Akaroa, Picton, Wellington, Napier, Auckland and the Bay of Islands. Sister ship MS Maasdam will also be visiting Australia to cruise to New Zealand starting from October 2016. The ship will operate six longer itineraries, including an epic 43-night cruise from Sydney to Auckland departing on October 20, which offers the unique opportunity of a full circumnavigation of Australia and New Zealand, with bonus ports of call in Indonesia including exotic Komodo Island.
Need to know: MS Noordam has various departures from Sydney for its 14-night round-trip cruises including March 25, October 25, November 8 and December 7, 2016.
Celebrity Cruises
Celebrity Solstice is back in Australia, and her home port of Sydney, for a summer of cruising this season as of October 2015. After cruising Alaska during our winter mid next-year, she will return to Australia again in October 2016 with New Zealand firmly on her calendar, offering a series of cruises for next season from 10 to 14 nights in duration. Options include a 12-night cruise from Sydney to Auckland with an additional stop in Melbourne, departing on November 27, 2016, or a 14-night cruise from Auckland back across the Tasman to Sydney departing on December 9, 2016, which visits Hobart and Melbourne en route.
Need to know: Celebrity Solstice will depart from Auckland on December 9, 2016.
Best of the Rest
CarnivalCruises returns to Australia this season after a hiatus, with three cruises to choose from, two of which coincide with special events. Carnival Legend departs from Sydney on December 30, 2015, for a 10-night round-trip New Year cruise, while CarnivalSpirit heads to New Zealand from Sydney on an 11-night round-trip cruise departing on February 12, 2016, to celebrate Valentine's Day. Both itineraries have a focus on North Island destinations including Wellington, Napier, Tauranga, Bay of Islands and Auckland. Carnival Legend will also cross the Tasman from Sydney in January 2017, on a leisurely 10-night round-trip cruise visiting Wellington and ports of call in the South Island including the spectacular Fiordland. P&O's Pacific Pearl will explore New Zealand for 13 nights departing on November 26, 2015, a round trip from Sydney, and finally, Royal Caribbean's Radiance of the Seas has a 13-night New Zealand cruise in early 2017, a round trip from Sydney departing on March 28, which includes scenic cruising of Fiordland and the sounds.
Need to know: Carnival Spirit departs from Sydney on February 12, 2016.
Related posts: