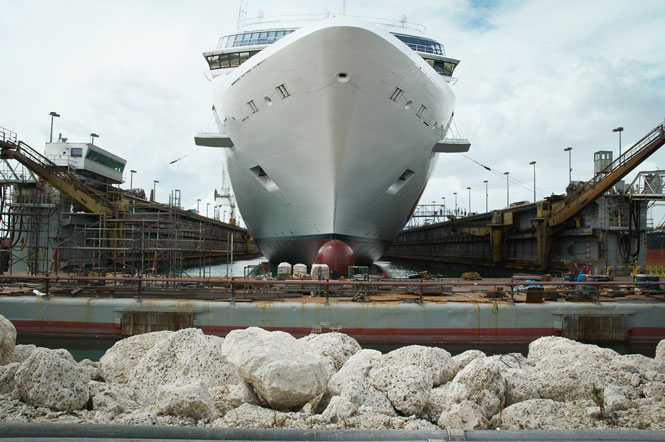 Got a cool $1 billion handy? Because that's how much you'd need to build one of those luxury cruise ships you've been eyeing up for your vacation. Luckily, you don't need anywhere near that much to enjoy the cruising experience.
Luxurious spa facilities, gourmet dining, a plethora of swimming pools, the latest entertainment, elegant staterooms, and chic bar after bar after bar – with all this and more, it's really no wonder cruise ships cost a tidy sum to build.
The world's second largest cruise ship, Oasis of the Seas, cost around $1.4 billion US dollars. And even the "cheaper" ships aren't exactly dollar savers; in 2008, Carnival Splendour sailed her maiden voyage, putting 475 million euros (about AU$672.4 million) on the water.
How is the ship priced?
Officially, cruise ships are priced by the number of berths (beds). Take Cunard's Queen Mary 2, for example. When she was launched in 2004, the final cost was approximately US$300,000 (AU$323,000) per berth. This made her one of the most expensive cruise ships in the world. Compared to the QM2, Oasis of the Seas was a bargain at "only" US$240,000 (AU$258,000) per berth!
So why was this particular ship so costly to build? For all cruise ships, the cost comes down to a variety of factors: the size of the vessel, onboard features and amenities, the building shipyard, and the state of the economy at the time it's built.
For the Queen Mary 2, it mostly came down to the materials used. Because Queen Mary 2 was designed as an ocean liner rather than a standard cruise ship, she required 40% more steel – which doesn't come cheap! Added to this are the sheer size of the ship, which measures 345m long by 41m wide by 72m high, and the technology behind her speed (she is one of the fastest cruise ships in the world, after all).
Who has the most expensive cruise ships?
Royal Caribbean tops the list for the most expensive cruise ships, with both Allure of the Seas and Oasis of the Seas costing in excess of US$1.4 billion. However, not all its ships are so extravagant; Monarch and Majesty were "only" US$150 million each. Likewise, Carnival's Fantasy-class ships might have cost around US$250 million each, but the newest Dream-class ships were three times more expensive to build.

And then there's MSC Cruises' Splendida. Designed in an extravagant Italian style, this ship features two sweeping staircases crafted from Swarovski crystal. As you climb the 72 steps, you step onto $40,000 worth of crystals…per step. That's $2.8 million worth of crystals by the time you've reached the top! It's no wonder the whole ship cost $550 million to build.
Renovate to save?
With such costly sums, it comes as no surprise then that most cruise liners will opt to refurbish and refit an existing ship rather than build a brand new one. But even renovations can quickly hit the half-billion dollar mark. Let's face it – waterslides, circus arenas and ice skating rinks don't come cheap.
Pricey ships through history
Such extravagance is not a new phenomenon. Even back in 1969, the Queen Elizabeth 2 cost 29 million pounds (about AU$61 million) to build. And we can't forget the RMS Titanic. Back in 1912, US$7.5 million were sunk into the White Star Line ocean liner, which today would have been around $180 million.
So next time you're onboard a cruise ship, remember to simply lie back and bask in the sheer extravagance of it all.
Related Posts: