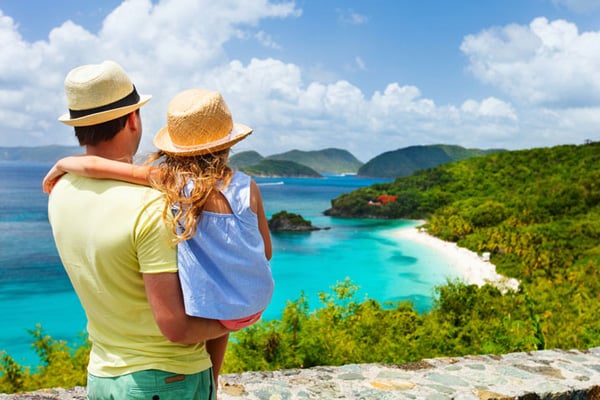 A luxury cruise line with lots of experience sailing in Australian and South Pacific waters, Princess Cruises have amenities and features above the ordinary. Choose from departures aboard any the five ships: Golden Princess, Diamond Princess, Sun Princess, Dawn Princess and Sea Princess out of Sydney, Brisbane, Melbourne and Fremantle with year-round cruises to New Zealand and the South Pacific, as well as around Australia. Naturally, Princess Cruises, considered by many in the business as a destination specialist, will have exceptional shore excursions to choose from. Here is just a selection.
Champagne Bay, Vanuatu
It's a scene straight out of the fancy travel brochures: a long, crescent-shaped, perfect white sand beach to relax on next to crystal-clear waters. There's an exhilarating freshwater spring with bubbles that give Champagne Bay its name. There's also horse-riding or the chance to dip in the famous Blue Hole nearby. Ask at the tour desk for sport fishing or scuba diving at this popular Vanuatu cruise port.
Bay of Islands, New Zealand
New Zealand is a land made for cruising, and a Bay of Islands shore excursion could be among the best anywhere in the Pacific. The choice is so wide, with activities like a Maori cultural tour, where elders explain their rich traditions, or a relaxing cruise aboard a chartered catamaran around the inner islands, including the famous Hole in the Rock, Cathedral Cave and the historic Cape Brett Lighthouse.
Lombok, Indonesia
While there may be a debate about Bali, there's no argument about the beauty of more traditional Lombok, just across the strait. It's a great opportunity to see more of the authentic way of life in these peaceful islands as well as a bargain for trinkets and souvenirs like elegant earthenware, carvings, and fine brocaded fabric items. The scenic attractions are the popular Senggigi Beach, Lingsar Temple, and Mayura Water Palace, making this a perfect spot for an easy, safe stroll.
Lifou, New Caledonia
The nearby French territory of New Caledonia has always been a favourite for South Pacific cruisers and the largest of the Loyalty Islands is Lifou, almost 200km northwest of the main island. This remarkable spot really is the postcard-perfect white sand beach and turquoise tropical waters. You'll just want to dive right in. But there's also a popular "Cliffs of Jokin" tour that takes in all the sights, including the staggering cliffs, vanilla farm, and the historic chapel.
Savusavu, Fiji
It's so easy these days to call something a "hidden gem" or "best-kept secret", but this darling village on the northern island of Vanua Levu is the real thing. Almost everything is there along the main street, but you may choose to join one of the rainforest or village tours that reveal the true natural beauty of the Fiji Islands as early discoverers found it. Then there's the J. Hunter Pearl farm, where Fiji's immaculate black pearls are cultivated.