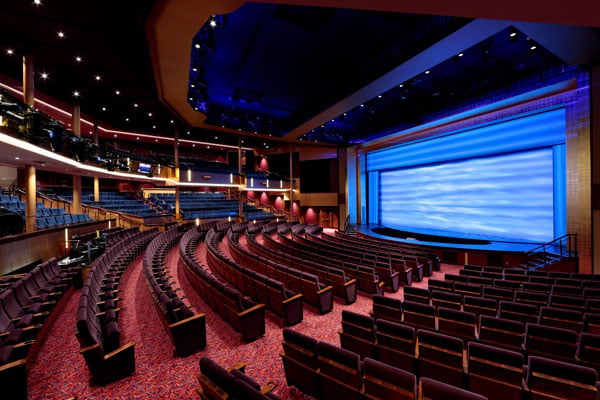 Catching a movie might not be at the top of your cruise activity list, but when it comes to the big screen, cruise ships are really rolling out the red carpet. Whether you want to relive the movie moments of yesteryear, be wowed by the latest 3D animation or lose yourself in Disney magic – today's cruise ships have something for everyone.
So grab your choc-top and settle down for the best movie experiences on the high seas:
For star-studded nights
Did you know that Princess Cruises was the first to introduce giant outdoor movie screens on its decks? Once a revolutionary feature, Movies Under the Stars is now featured on most Princess ships. Head up to the top deck, grab a comfy lounger and snuggle down for blockbuster movies on the 300-square foot poolside screen. And because no cinema experience is complete without munchies, Princess Cruises provides complimentary popcorn, warm cookies and milk, and blankets for the cooler evenings. Cuddle up and enjoy the show!
For a whole new dimension
Royal Caribbean provides cruise ship entertainment in an entirely other dimension. Grab the free glasses and watch the latest releases by DreamWorks and other studios in the onboard 3D cinema. This can be found on Oasis of the Seas, Allure of the Seas, Liberty of the Seas, Voyager of the Seas and Freedom of the Seas. And movie lovers will be excited to hear some Royal Caribbean ships also feature a huge outdoor movie screen for poolside entertainment. Not just limited to movies, these screens allow guests to battle it out in massive video game challenges!
Movies to the max
Just when you think cruise ship entertainment can't get any better, Carnival has launched the first IMAX cinema at sea. Featured onboard Carnival Vista, the Carnival Multiplex soars three decks high and shows a mix of Hollywood flicks, IMAX documentaries and IMAX classics. It does come at an extra cost, but less than you'd pay on land.
Sprinkle of magic
This is not just a cinema – this is all part of the magical Disney experience. It's only fitting that Disney's cruise ship entertainment includes movies – new releases, old favourites and 3D – in the beautiful Buena Vista cinema. Choose your refreshments at the stand, take your seat and let the Disney magic commence. For a cosy night in, you can flick between two movie channels in your cabin, with one dedicated to classic animations.
For classic movie moments
Cunard's Classic Film Club is perfect for movie aficionados and romantics alike. Relive those classic moments in Hollywood history, like when Cary Grant and Deborah Kerr meet on the ocean liner in An Affair to Remember. Or fast-forward and enjoy a new release in the spectacular Royal Court Theatre. Award-winning actors also headline in the Cunard Insights lecture program from time to time.
For the digital edge
Crystal Cruises gives you movies on demand with its free app, Swank Media Player. Simply download the app onto your smartphone or tablet and, once onboard, you can instantly watch complimentary movies and lectures. Movies include Hollywood releases, classics and short films specific to your itinerary. And because no internet access is required, so there's no need to worry about sneaky data charges.
For the even more digital edge
Silversea Cruises has gone one better and has launched a complimentary service allowing guests to stream movies and live television news. Available onboard five if its fleet, the service gives you access to a huge library of the latest and classic feature films, with over 80% available in five languages: English, French, German, Italian and Spanish. Didn't pack your tablet? No worries – the ship provides a limited supply of iPad minis on a first-come, first-service basis.
Want to get in the mood for your cruise? Pop some popcorn, snuggle on the sofa and watch the cruise classics like An Affair to Remember, The Parent Trap and Table for Five!