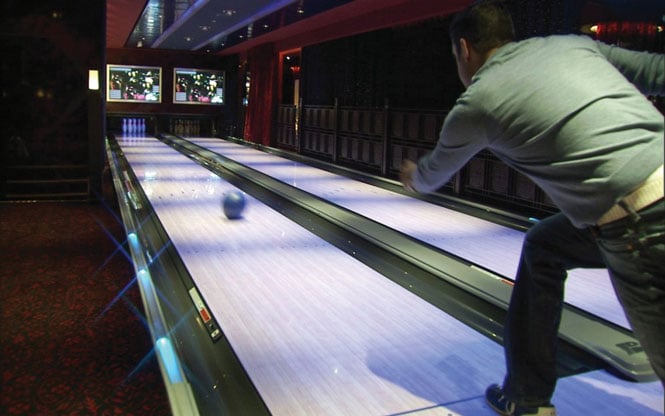 You wouldn't believe it was possible. Swimming pools, golf simulators, spas, restaurants, boutiques and libraries, sure – but a bowling alley on a cruise ship? How could it possibly be done?
Then, in 2006, along came Norwegian Pearl, bringing with it the very first bowling alley in a modern cruise ship. For the first time since the SS Ile de France in the Roaring Twenties, people could experience the glorious feeling of knocking down pins in the middle of the ocean.
With the bowling fun being so popular amongst passengers of all ages, it only seemed right that Norwegian Cruise Line should include a bowling alley on its next ship, the Norwegian Gem, in 2007. Like its sister, the Gem incorporates four bowling lanes in its Bliss Ultra Lounge, meaning guests can enjoy a whole day of bowling, watching live sports, and playing video arcade games in one place. At night, Bliss transforms into a high-energy lounge with a live DJ spinning the decks and mood-lit bowling. This whole complex provides a great space for kids during the day too, especially with the gutter bumpers in play.
In 2010, the Norwegian Epic became the third of the Norwegian Cruise Line fleet to add bowling to its list of attractions. And with the Norwegian Epic holding a whopping 4,200 passengers over 19 decks, it's no surprise that bowling should join the assortment of entertainment onboard; an assortment which also included a 10-metre high and 19-metre wide rock climbing wall.
However, not content with one bowling alley, this ship boasted two different bowling venues on the ship – three in the Bliss lounge and three more in the Freestyle Family Fun area. Six lanes in total and the most bowling lanes to ever sail the high seas.
What are the bowling lanes like?
These might not be championship quality bowling lanes, but they still feature some of the technology you'd find at your local bowling centre, including Pinball Wizard bumper bowling (great for kids), Brunswick Anvilane synthetic lanes, GS-X pinsetters and Vector scoring systems. However, before you go and organize a professional tournament, it's worth noting that they are about 12 inches shorter than regulation size.
Are Norwegian Cruise Lines the only ships to feature bowling?
Not any more. Following in the footsteps of Norwegian Cruise Lines, in 2009, MSC Cruises launched Splendida complete with 10-pin bowling lanes. However, this time they were only mini lanes, designed to be part of an American-style sports bar rather than bowling centre in itself. The advantage of the MSC Spendida's bowling alley over the NCL's is that the special bowling surface means there's no need to put on those iconic bowling shoes.
So what is it like to bowl at sea?
Despite what you might think, most passengers don't experience any problems from the rocking and rolling of the ship. Just like any other activity onboard, unless the seas are rough, the ship's stabilisers will keep things nicely balanced. However, there will be times when the bowl doesn't quite go the way you want to. For most people, that won't be a new sensation! Just remember, the aim of game is fun.