Imagine 84 nights discovering the most colourful, lively and breathtakingly spectacular places in the world. Princess Cruises is making travel dreams come true with its South America cruises beginning in January 2017.
In 2017, for the first time ever, Princess Cruises is offering a circumnavigation of South America from Australia onboard Sea Princess. This magnificent cruise ship will stop at 28 unique ports across the South Pacific, South America and the Caribbean, with 13 new ports of call, including the Falkland Islands, Cape Horn in Chile, Salvador in Brazil, and more.
Whether it's enchanting Incan ruins, mesmerising Galapagos wildlife, or sultry tango beats dancing through the cobblestoned streets of Buenos Aires, this brand new itinerary will give a big tick to more than one item on your travel bucket list!
Sea Princess South America from Sydney Cruise in January 2017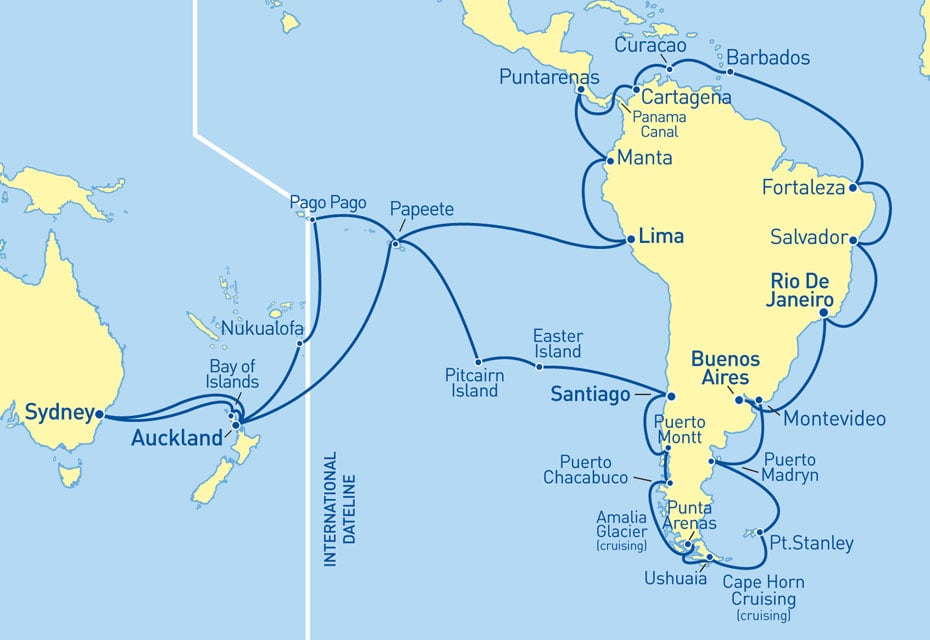 Sea Princess South America from ​Brisbane Cruise in January 2017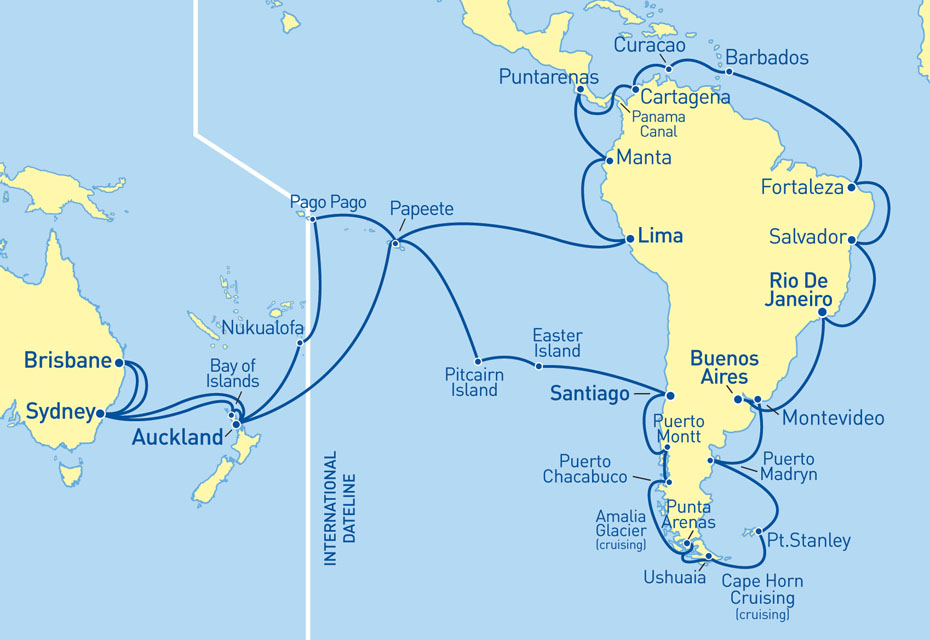 We've picked five of our top highlights on the once-in-a-lifetime South America cruise:
Transit the historical Panama Canal
There's nothing like taking the world's greatest shortcut! More than 400 years in the making, the Panama Canal truly is a man-made marvel. And what better way to experience it than on your cruise ship where you can savour Panamanian cuisine and learn the history and workings of this 100-year-old wonder from expert commentators as your ship passes through.
Machu Picchu, the Galapagos Islands and Iguazu Falls
Okay, technically these are three highlights. But what we really love is the optional overland excursions allowing you to make tracks to some of the most breathtaking destinations in South America. Marvel at Iguazu Falls and see where Argentina, Brazil and Paraguay meet at the Triple Frontier. Be mesmerised by colourful marine life, stunning landscapes and abundant bird colonies of the Galapagos Islands. And discover Peru's ancient civilisation at Machu Picchu. (This is an optional "Overland" 72 hour tour, re-joining the cruise thereafter. Limited spaces are available)
Navigate the Amalia Glacier
Once upon a time, 10,000 years ago, the whole of the southern Chile was covered by an ice field. That's long melted away to reveal awe-inspiring channels and islands that are now the fjords of southern Chile's Pacific Coast. Snowcapped mountains and spectacular glaciers will leave you stunned in awe. But don't miss the sea lions and dolphins that also grace this natural paradise.
Discover South American cities by day and night
One day just isn't enough for South America's fascinating hubs. Especially because they really come alive at night! That's why Sea Princess offers overnight stays in Rio de Janeiro, Buenos Aires and Lima (Callao). Spend two full days exploring the colonial architecture and chic neighbourhoods of Buenos Aires, before experiencing the famous red wine, steak and fiery Latin nightlife. Explore the dizzy heights of Christ the Redeemer and Sugarloaf Mountain in Rio before dancing the night away to the samba beats. You'll be toe-tapping all the back to the ship!
Explore the remote Easter Island
Just off the coast of Chile, Sea Princess will anchor off one of the most remote islands on Earth. You'll be forever changed by the enchanting folklore of 'Rapa Nui'. Stand in awe in front of the giant stone Moai that have made this magical island so famous. And be enthralled by the magnitude of the (extinct) volcanic crater and uninterrupted views. This island makes everything else seem insignificant.
Princess Cruises' Circle South America cruise is the only one of its kind to depart from Australia. Round trip options are available from Sydney, Brisbane and Auckland. Visit our website to find out more and book your place!
Check our Sea Princess world cruises: